Siddha Treatment Centre Inaugurated In Tirupur
Coimbatore Rural SP Krishnamoorthy inaugurated a unique Siddha treatment centre here on Sunday. The Natural Siddha Treatment Centre, run by the tribals from Andhra Pradesh, was started near Aatupalam in Coimbatore in 1996. The success of the centre has motivated them to start a centre in Tirupur. Speaking to "The New Indian Express" Sahadeva Raju, chief physician of the centre, said Siddha treatment has been traditionally practiced by the tribals.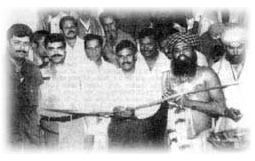 Sahadeva Raju and his team preparing a tribal medicine at Aathupalam in Coimbatore
The Malavaasya, as they are called, are originally the Baastha tribes of Madhya Pradesh. They are said to have migrated to Andhra Pradesh 30 years ago. Nomadic by nature, these people collect herbs from the forests of Andhra Pradesh, prepare medicines in traditional methods and conduct Siddha camps in Bangalore.
Sahadeva Raju said that Asthma, Skin Diseases, Cancer, Diabetes, Epilepsy, Paralysis, Menstural troubles and digestion problems are successfully treated by them. He claims that they have herbal medicines for birth control too.He said they have medicines for 360 types of diseases. Diagnosis is done by checking the pulse of a person. No fees is collected for diagnosis.
A minimal amount is collected for the medicines alone. Simple diet regulations are prescribed. The treatment period ranges from three months to five years. About 60 tribal men are camping in Coimbatore. They bring herbs from AP forests and prepare medicines in their camp. No artificial method is used for grinding the herbs. The medicines are not sold in the market. Sahadeva Raju said there are several Siddha physicians who claim proficiency in tribal Siddha methods. But this treatment centre is different from the other centres as the physicians here are traditional and original practitioners.
The Coimbatore camp has eight physicians. Sahadeva Raju will stay in Tirupur for a few months.
The New Indian EXPRESS,Monday, November 1, 1999 from Tirupur.