A man with a mission P. Shahadev, the chief of the Sabari Bhils came to the city recently with just one aim - to cure the sick of Nagpur through ayurveda.
He is an illiterate tribal chief. But he rattles off English words with amazing ease. His articulateness leaves you speechless. The purpose for which he is in the city is a noble one, and he goes about it with a messianic zeal.
P.Shavadev Raju claims that he can completely cure asthma, provide relief to diabetics and help many forget that they ever had heart or blood pressure trouble. All with the aid of Ayurveda.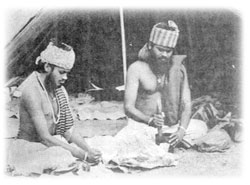 Guruji and his assistant
Not that he ever learnt the science at an institute. To him, it was handed down by his ancestors. He hopes to help the people with the knowledge that he learnt the hard way. It took him and his associates years of rummaging through the jungle shrubs and curing hundreds of fellow tribesmen with herbs to learn the science.
D.P.Mishra, the then chief minister of Madhya Pradesh, had promised the legendary tribal king Praveen Banjdev of Jagdalpur, a manna-of-sorts in exchange for the tribals' votes. He also threatened to depose him and install his younger brother Vijay in his place if he did not comply. In the clash that followed in the year 1966, Banjdev was killed and the indomitable tribals killed and wounded many policemen with bows and poison-tripped arrows.
Then began a regime of repression against the tribals. It was then that they moved enmasse deeper into the jungles in Bhadrachalam district of Andhra Pradesh. They continued to be cocooned in these jungles, feeding on fruits and meat, totally cut-off from civilization.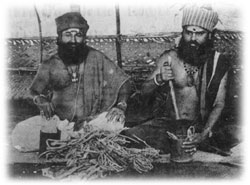 Guruji and his assistant
The flood of 1985 proved to be a godsend. All their dwellings were submerged and a few hundred tribals were killed. There was a rush of leaders in helicopters, from Rajiv Gandhi to N.T.Rama Rao, who ordered immediate relief and permanent dwellings for them. They were evacuated to Gandasiri village of Khammam district in A.P. Pucca houses were built for all of them, they were provided arable land and even a primary school was opened. The flood had irrevocably changed the course of lives of these tribals, more so of Shahdev.
The government also provided them with a piece of land and promised to build an 'Ayurvedic Sansthan' to exploit their knowledge of this medical science so that it could benefit many. It has now become Shahdev's mission in life.
Though unlettered himself, he knows that education is the paramount factor in development. He has got 35 youth from his tribe admitted to various universities in the state to study ayurveda. When they graduate, he says, they will be better equipped to combine the scientific knowledge with the empirical and preserve it too. It is they who are to set up the Sansthan, seven to eight years from now, which will produce ayurvedic medicines on a large scale so as to provide succour to patients all over the country.
"We tribals have very few needs, only the basic. And our wants are even fewer. But times are a-changing. Our children today demand bicycles, and our women sarees," says Shahdev, the amusement reflecting in his large, expressive eyes.
He vividly remembers the instance when about 15 white men came to his father, promising his tribe all facilities and a lot of money. They wanted only one thing in return - the setting up of a church in the area. But the tribal king refused to fall for the bait.
It was in his early twenties that Shahdev set out to see the outside world. The list of his friends and patrons now reads like a who's who of politicians, top bureaucrats and filmstars. Perusing the innumerable testimonials of his medicinal expertise, face-reading and fortune-telling that they have given him can be an exhausting experience.
He has covered a large part of the country by now - Delhi, U.P., M.P. Maharashtra - going as far as sikkim whose chief minister Nar Bahadur Bhandari is a good friend of his father. The interaction with a wide cross-section of the society and continuous comparison of the way his fellow tribesmen live with that of the other urban and rural countrymen has whetted his eagerness to improve the lot of his tribe. They have now taken to farming and trade, but Shahdev, who himself is well-off with 35 acres of farmland and a tractor, isn't satisfied.
The only way the nation will recognize the true worth of his people is through ayurveda, he asserts, and all that he does now is aimed at that.
In his last three stints - two years in Jabalpur, one year in Bhilai and six months in Satna - Shahdev claims to have treated thousands of afflicted persons. A testimonial from a top executive of Bhilai Steel Plant that he shows seems unnecessary.
But he was in for a shock at Nagpur. When he landed here with ten of his associates ("they are my 'compounders," he says with a smile), and set up tents at Raghuji Kagar, he had expected that the citizens would queue up for a treatment which has no side-effects and, what's more, was being offered free of charge.
Nagpurians, swindled many a time by mountebanks dressed up exactly as Shahdev and his men do and promising incredible cures and prowess with the help of jadi booties and left with lighter pockets, however, refused to believe that he was any different. Even the prospect of free treatment failed to attract the once-bitten-twice-shy citizens.
Ignored for over a month, Shahdev's hopes started receding and despair began to set in. That was when the PRO of a public sector company heard his story and recognized the do-gooder in him.
In the past few days he has been meeting many prominent citizens of Nagpur and treating them. But his main interest, he says, lies in treating the common man. "The rich man can always get good treatment. It is the poorer citizen I would like to treat and as many of them as possible."
There is little to gainsay his assertions. If Nagpurians profit by the service that these men have come all the way to provide, Shahdev might return a happy man. But, even otherwise, he seems to have very little to lose. All he needs to forget the ill-treatment by this city is a change of venue. For him, the mission matters, the place doesn't.
The Indian EXPRESS, Saturday, March 20, 1993 from Nagpur